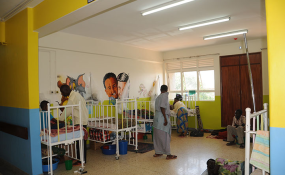 Photo: The Observer
The children's cancer section at UCI (file photo).
Kampala — 27,000 people in the country do not access cancer treatment in Uganda. This is according the Uganda Cancer Institute.
According to doctors at the cancer institute, the number of patients that receive treatment at the facility is much lower than the number that does not receive treatment.
Data from the Global Cancer Observatory shows that annually, 32,000 new cancer patients are registered in Uganda. However, only 5,000 are on average received at UCI. Last year, the cancer treatment centre received